November 14, 2022, at 7:00 P.M
December 12, 2022, at 7:00 P.M

February 13, 2023, at 6:00 P.M
March 13, 2023, at 6:00 P.M
April 10, 2023, at 6:00 P.M
May 8, 2023, at 6:00 P.M
June 12, 2023, at 6:00 P.M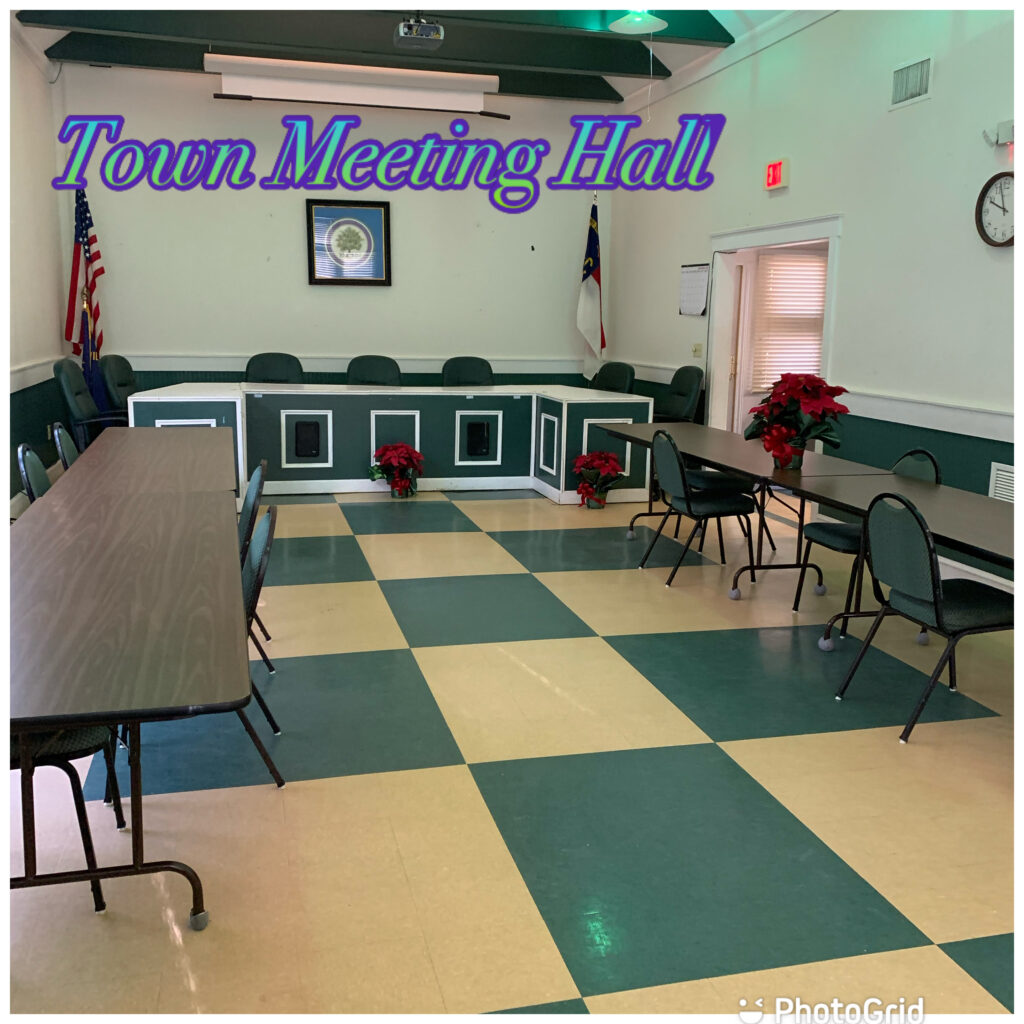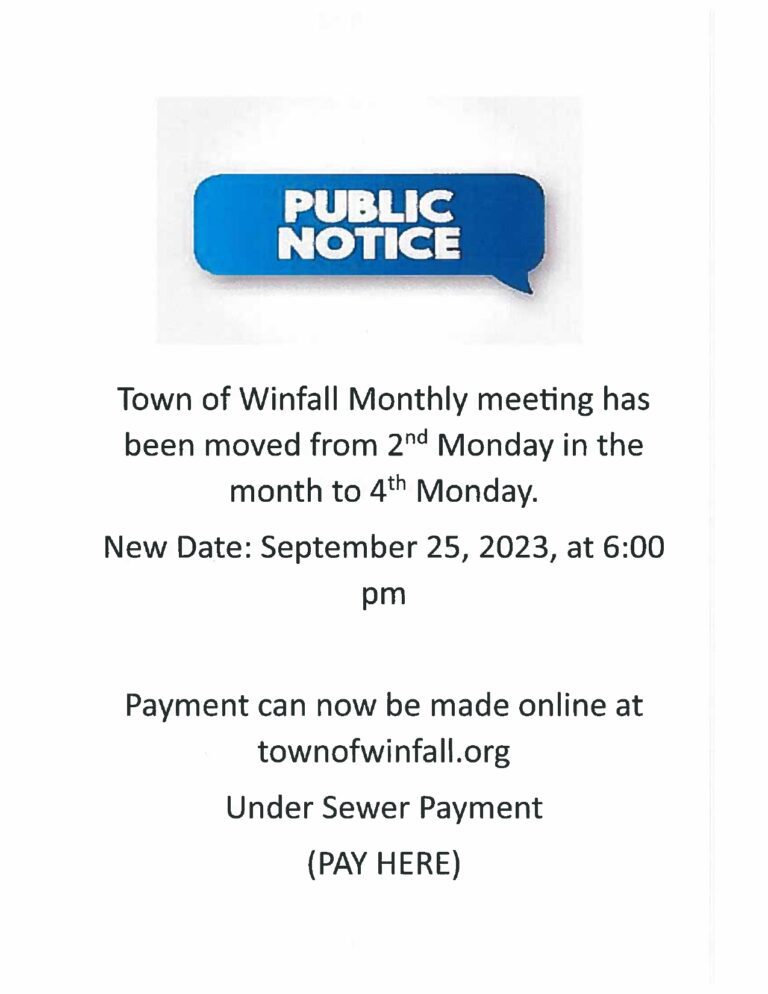 Public Announcement!
Town of Winfall
Public notice is hereby given that the Town of Winfall will hold a special meeting for the Town Council, August 28, 2023, at 5:00PM. The purpose of this meeting is to discuss the possibility of purchasing a 2024 Pierce Saber 1800-gal Tanker for the Winfall Volunteer Fire Department. The meeting will be held in the Town Hall Community Center. For more information, please call the Town Office at 252-426-5015.
The public is invited to attend with comments, or concerns, or questions.
If you need the assistance of Police, Please call Perquimans County Sheriff's department @ 252-426-5615.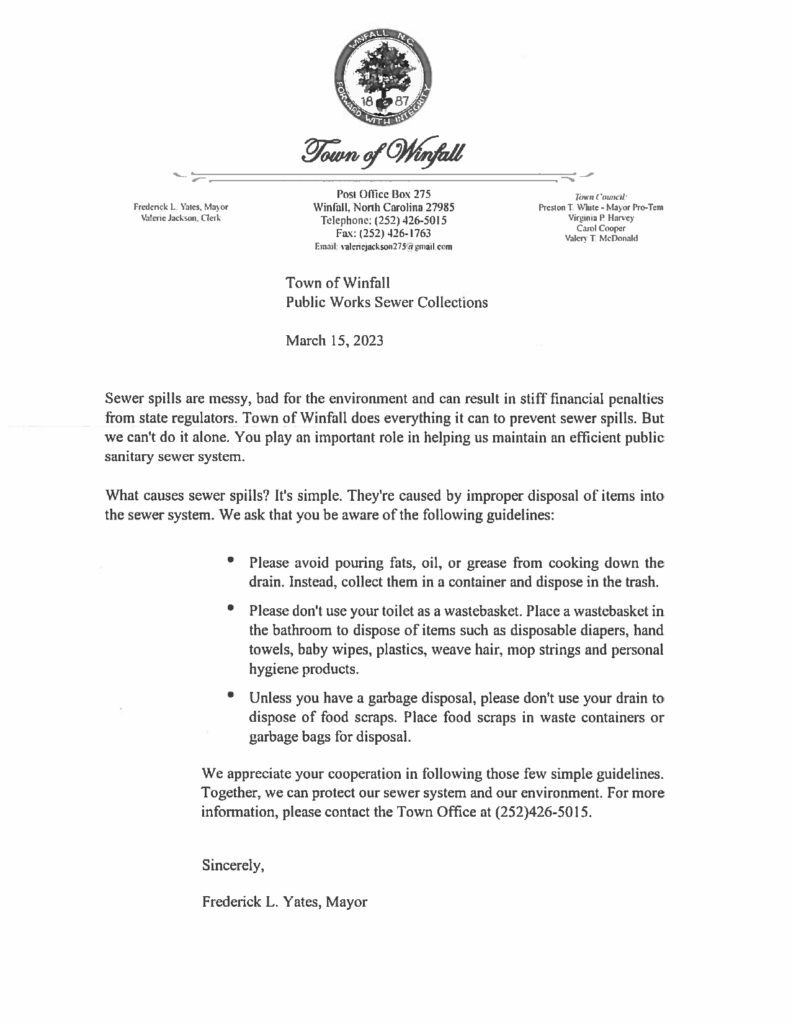 Upcoming Public Announcement!
Public Hearing
PUBLIC HEARING NOTICE
MONDAY October 2, 2023
5:30 pm
Notice is hereby given that a Public Hearing will be held by Winfall Town Council at the Winfall Town Hall on the 2nd day of October 2023, at 5:30 p.m. in the Community Center, located at 100 Parkview Lane, Hertford, NC 27944 for the purpose of considering a Special Use Land Permit.
This public hearing is to hear questions, comments, or concerns regarding the purchasing of 80 acres of land located on Winfall Blvd. Parcel 5-0032-0130 W & 5-D040-0235A-W (property of Sidney P. Jessup). The property is to be used to build a New Intermediate School.
The public is urged to be present for this important meeting. Property owners, residents, and other interested parties are urged to attend. For information, please call Winfall Town Hall at 252-426-5015.